What if you could give your child what some experts call the largest gift of his or her life?
What if you could end the drama?
What if you could coparent in peace?
Want to know a secret?
You CAN.
I can see you rolling your eyes. I know it feels impossible.
Does this sound familiar?

Your ex is high-conflict and spends his days pushing your buttons. He's always ready for a fight and even the simplest conversation leaves you rattled.

Your relationship with your child's other parent makes you crazy. Each interaction is weighed down by your former relationship and you're anxious and tense just seeing her.
You've paid more in attorney's fees than you could ever have imagined, arguing about winter clothes and weekend swaps.
Constant drama has you clenching your fists and gritting your teeth each and every time you see him. You fight about clothes, time and custody exchanges.
You've failed before. No matter what you try, you can't seem to coparent peacefully. The past just won't die.
You know coparenting is what's best for your children but you just can't seem to get it right. The bickering seems endless, and it's easier to avoid your ex than work with her.
You're ready to give up. You see the pictures of parents coparenting peacefully, but you know that won't ever be you.
Any of that sound like you? Good!
You're in the right spot.
The truth is, no one talks about how to move from being married parents to being divorced parents.
There's no instruction manual.
There's no step-by-step guide.
There's no class.
Up until now.
Total Coparenting Transformation is a simple, proven curriculum that delivers peace.
Yes, peace.
Even if you've tried and failed before.
Even if your ex does not participate.
Even though it feels impossible.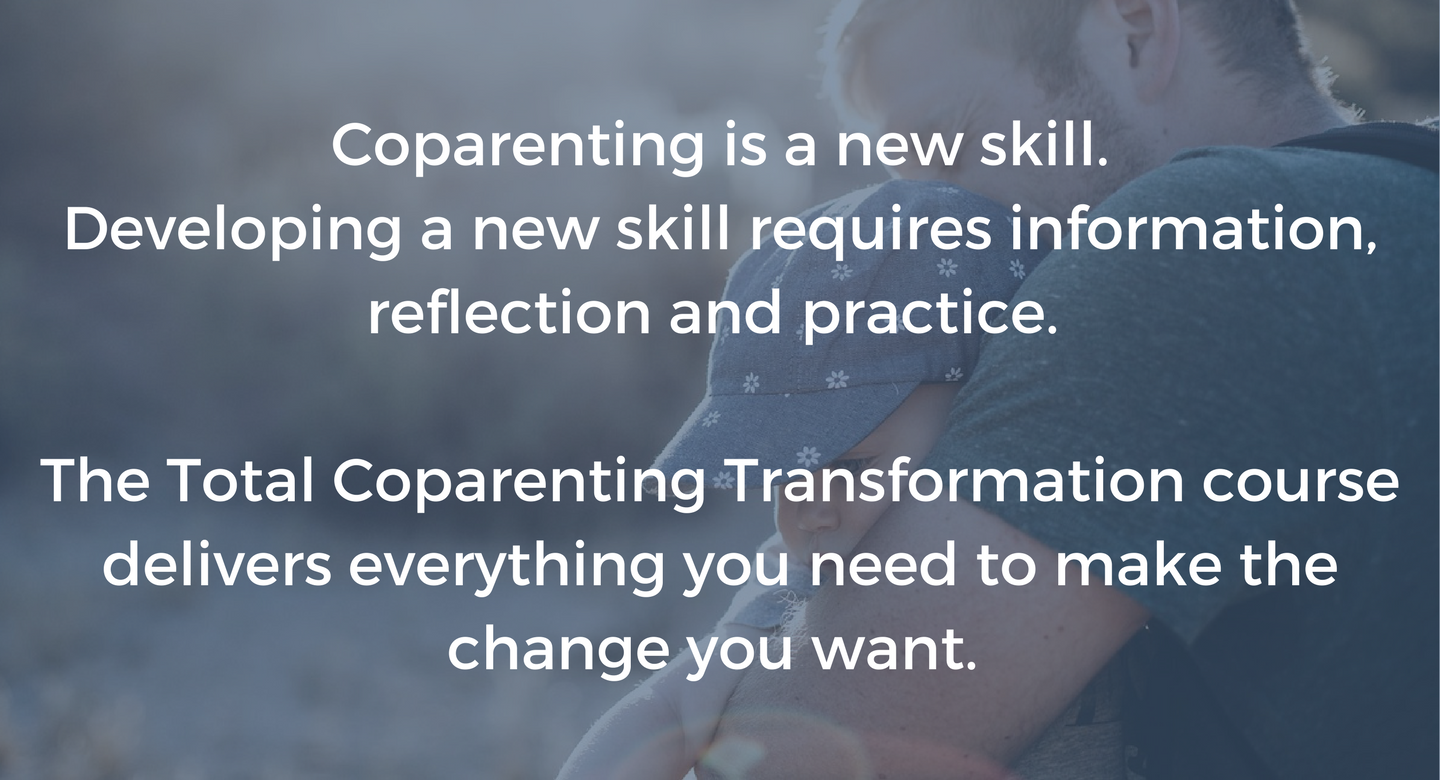 Total Coparenting Transformation begins by sharing the latest data about the effects of stress on children and the scientific benefits of coparenting.
It continues by shifting your perspective and expanding what you notice, about yourself and others. It teaches you new behaviors to support your coparenting intentions. It bullet-proofs your new approach by diving deep into pitfalls, special circumstances, and the science of habit.

Eleven private, self-paced video modules are packed with information and simple strategies to help you end the drama and release negativity.
The course includes work on grief, triggers, and common coparenting mistakes. It focuses on building new behaviors, and shares step-by-step practices to help you make the change you want. It's packed full of actionable content, helping you better understand why you and your partner do the things you do, and how to shift toward peace.
Total Coparenting Transformation includes unlimited access to more than 4 hours of video content, written and delivered by a professional coach and coparenting expert.
Total Coparenting Transformation includes a downloadable workbook and journal. The course is valued at more than $2,500, and is 100% guaranteed.
Total Coparenting Transformation is written for one parent. You can begin and complete this work even if your ex does not want to coparent, and your child will reap the benefit. You can be the change you want to see.
Total Coparenting Transformation works.
Here's what people are saying about Total Coparenting Tranformation:
"Kate combines best friend-level support and therapist-level insight with concrete, practical guidance for surviving and thriving as a coparent. Presented with heart, humor, and a wealth of knowledge and experience, this course is an invaluable resource for divorced parents and blended families. If you're ready to be empowered to take the next steps in your parenting journey, Total Coparenting Transformation is for you. " - Ann Payne, MSW
"This course is full of actionable, simple exercises. I was genuinely surprised at how much great content filled each module." - Dana C.
Here's what people are saying about creator Kate Chapman's work with divorced parents:
"Since finding your work, my heart has finally slowed to a pace that I can now breathe a sign of relief. I know that we may very well experience challenges along the way. What I do know for now is: I have a very strong resource to refer to, to help me pump the brakes, slow down and feel like everything is going to be ok." - Felecia L.
"I'm sure you get dozens of messages like this daily, but I wanted to add mine to the stack. You make a difference. You sharing your experience and your life helps people. Thank you. Thank you for what you do." -Catherine D.
You CAN have the peace you desperately need.
Enroll today and transform your coparenting relationship.